Powder is capable of being used in large-scale repeatable channel measurement studies. In addition to being frequency-agile, the Powder platform has a large number of endpoints, both at rooftop height and at endpoint height. These can be reserved for use in a large channel measurement study, and can be repeatedly used to measure the same exact network in different weather / seasons, interference, and time-of-day conditions.
As an example, we use eight rooftop CBRS nodes, that is, the NI X310 on each rooftop node. We run an experiment as described at PathLossMeasurement.md. We use one rooftop node at a time as a transmitter, and measured received power within the other seven; then repeat with the next node as transmitter, and repeat until all 7*8 links are measured. We determine from that the measurements fit the path loss exponent model with an exponent of 3.6, that is, that the power decays proportionally to d-3.6, where d is the path length. Such path loss models are useful for cellular deployment planning. Improvements in path loss models can aid in automated development of better deployment plans, which then ensure sufficient SINR across a cellular network.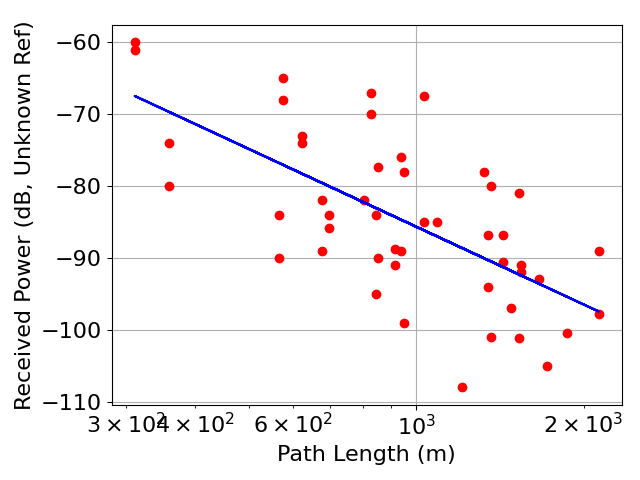 The figure shows the received power (red dots) vs. path length for 56 links between pairs of CBRS rooftop nodes. The dB received power is not calibrated, so is listed as referred to an unknown reference. The path loss exponent model for the measurements (blue line) has a path loss exponent of 3.6 and standard deviation of 8.5 dB.
We can also conduct wideband channel impulse response (CIR) measurements, and use them to develop multipath models which then impact wireless system design. For example, we use a pseudo-noise (PN) signal transmitter and a correlation receiver to measure the CIR between two base stations in the figure below. As expected, we see multipath powers with exponentially decreasing magnitude as a function of excess time delay. We additionally see a multipath at 8 us with 20 dB less power than the first path, which may be attributed to a reflection from the mountains bordering campus.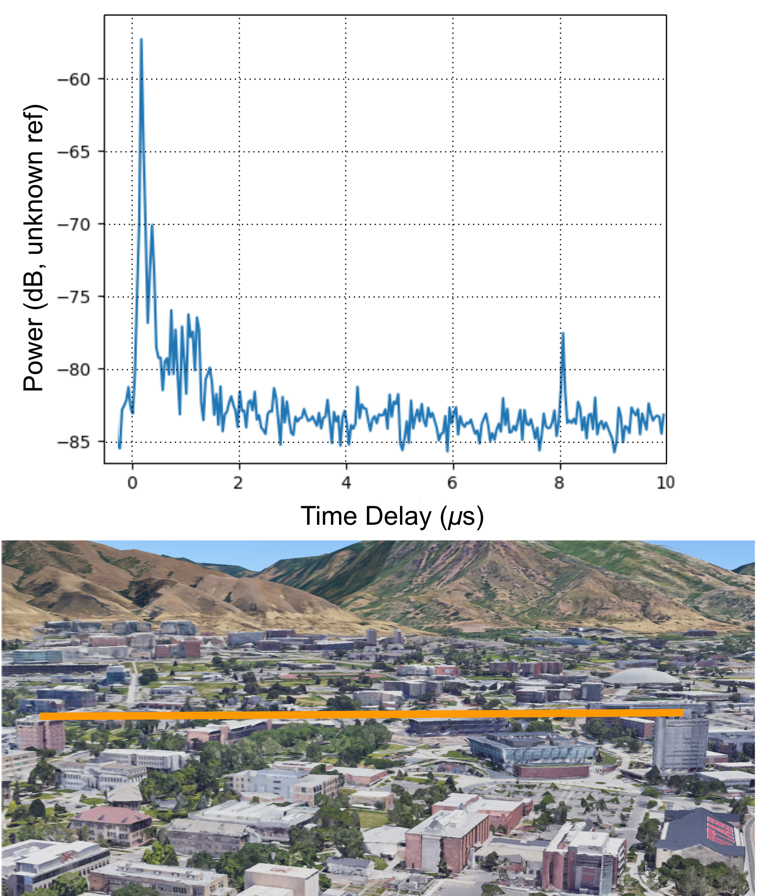 The (Top) figure shows the channel impulse response estimate (blue line), and (Bottom) Google Earth view, of the link between the William Browning Building and Behavioral Science Building rooftop nodes. The path at 8 μs may be a reflection from the mountains.
Cellular operators know that weather changes cause disconnects attributed to changes in received signal power and interference power. Powder provides a unique platform to observe and model temporal changes at a variety of time scales, by measuring the same channel over seconds, minutes, hours, days, and seasons, which generally has not been observed or well modeled. We expect that the Powder platform will enable key new models which increase the reliability of 5G cellular and other future generation wireless systems.
Acknowledgement: Data for these figures came from participants in the 2020 NSF Research Experience for Undergraduates (REU) program.